Historical Results
The 15,000-plus acre Sungold property includes the massive sulphide Wye Lake occurrence and the southeast extension of Goldshore's Hamlin IOCG (iron oxide-copper-gold-uranium) deposit, which has the potential for Ni-Cu-PGE and Porphyry Cu mineralization.
In 2005, backhoe trenching of the Wye Lake Zone intermittently exposed massive, semi-massive and stringer sulphides over an 850-metre strike length contributing to an IPV of approximately $54 million at the time for the then owner of the property (Freewest Resources).
Highlighting the trenching program was the uncovering of massive zinc-copper mineralization at two locales, situated 400 metres apart and on strike with each other. Specifically, assays of up to 27.8 per cent zinc and 0.91 per cent copper were obtained at one trench line and up to 29.8 per cent zinc and 0.84 per cent copper were obtained at another. Other drill holes in the Wye Lake area also provided interesting results, including WL05-08 of 13.75 metres of 0.77 per cent Cu and WL05-13 of 12.45 metres of 0.72 per cent Cu.
At the Hamlin IOCG location, one drill hole (drilled in 2011 by Xstrata Copper Canada) approximately 10 metres from the Sungold claim line next to Goldshore, HAM-11-75, came in at 156.1 metres grading 0.35 per cent Cu, 0.015 per cent Mo, 2.15 g/t Ag and 0.87 g/t Au. Another drill hole, in the immediate area, HAM-05-35, had the copper equivalent of 0.68 per cent over 49 metres.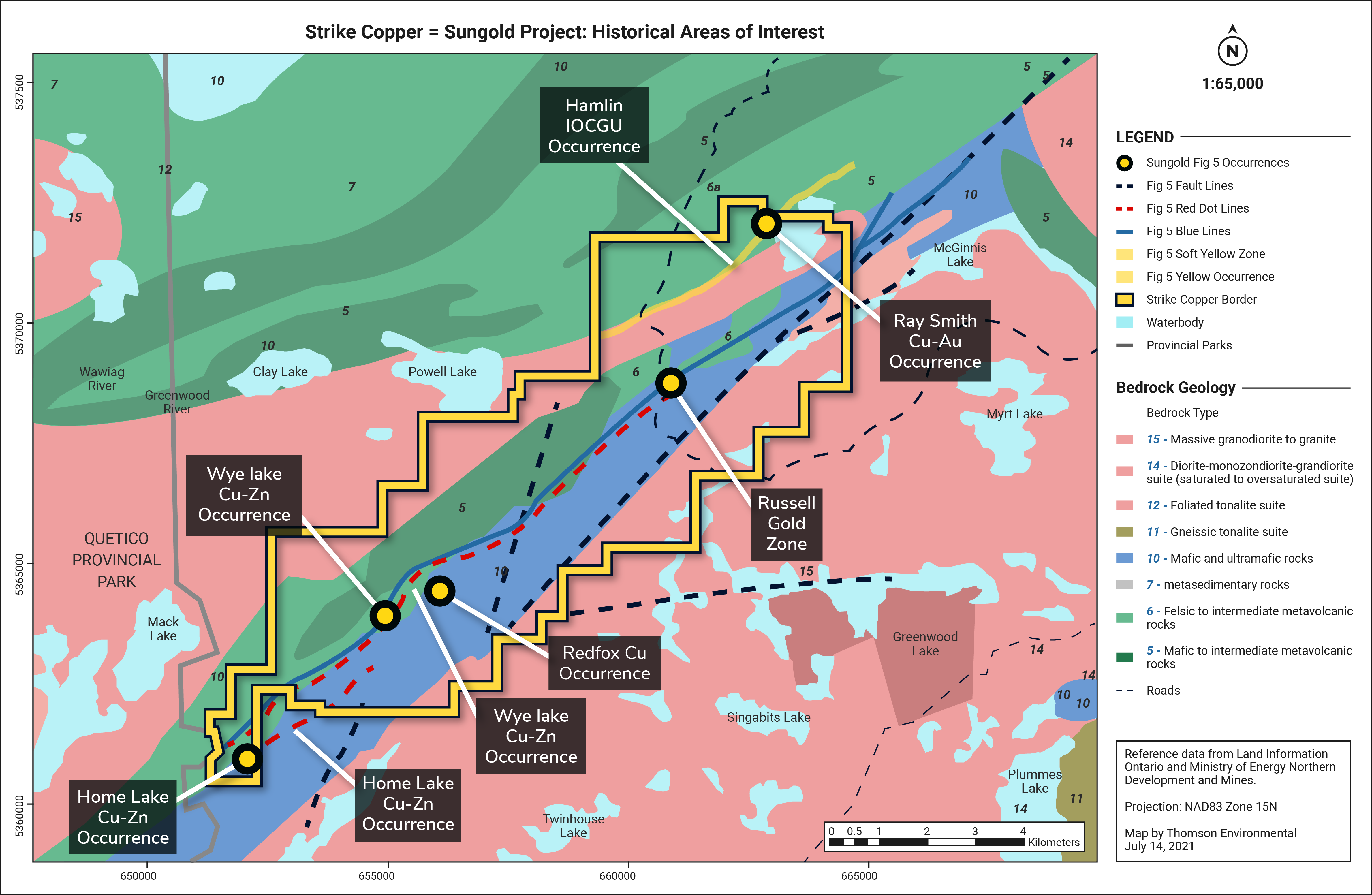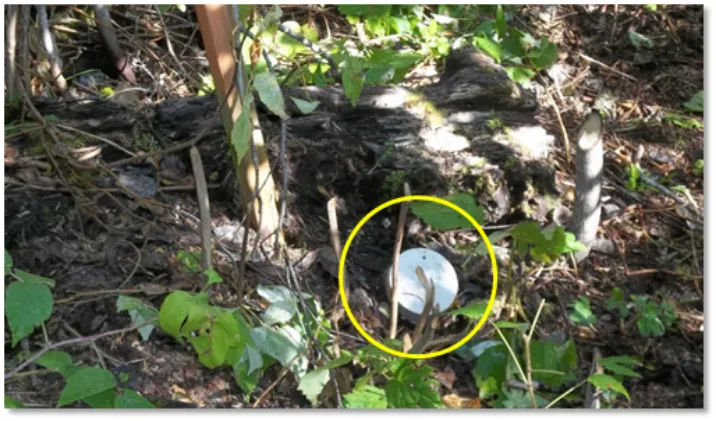 IMMEDIATE TARGET: HAM-11-75 (DRILL CAP CIRCLED)
HAM-11-75 is approximately 10 metres from SCC's claim line with Goldshore Resources' Moss Lake property. After 15.5m of overburden, the drill encountered a potassically altered breccia from 15.5 - 316.5m with a minor unit of diorite (at 86 - 126.6m) and a minor shear zone (at 213.4 - 234.1m).
The drill then encountered felsic volcanics at 316.5m which persisted until the end of the hole at a depth of 364m.
The hole contained an interval of 156.1m grading 0.35% Cu 0.015% Mo, 2.15 g/t Ag, and 0.87 g/t Au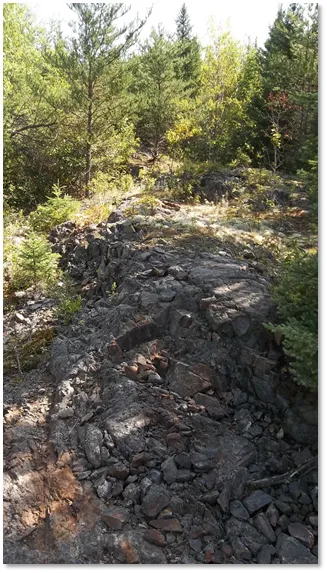 To the left is a picture taken in September 2020 showing historical trenching near drill hole HAM-05-35, displaying brecciated rock with gossan throughout.
Current Exploration activity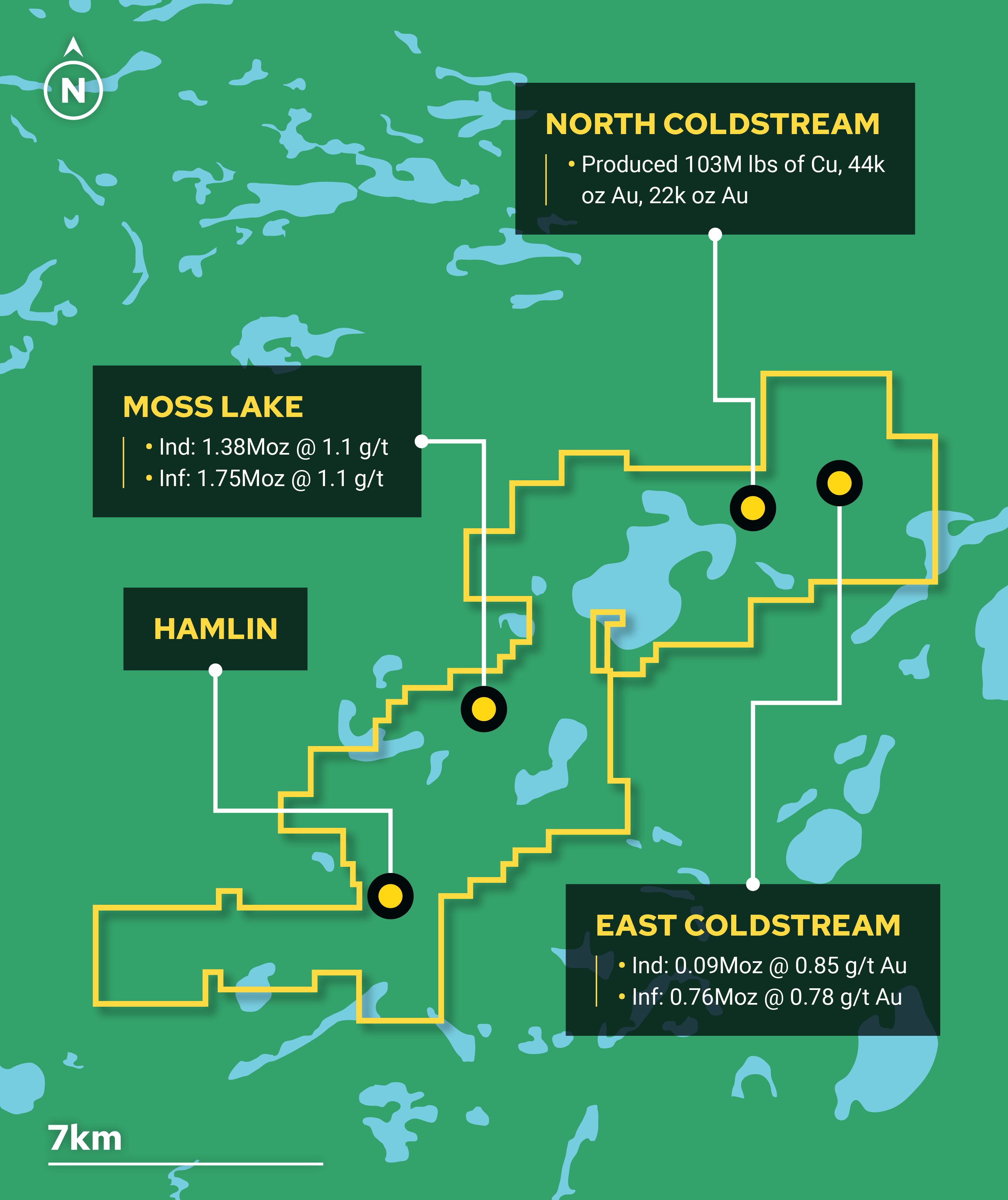 The Sungold property is directly adjacent to Goldshore Resources' Moss Lake 4.0 million oz/t Au deposit.
The property was acquired by Goldshore from Wesdome Gold Mines Ltd. in a $57 million transaction, which closed on May 31, 2021.
On the same day, Goldshore completed a $25 million financing and its shares began trading on the Toronto Venture Exchange (TSX –V) on June 4, 2021.
Some of the proceeds of the financing are being used to undertake a100,000-metre drill program at Moss Lake.
The map to the right shows historical results from the Moss Lake Property. Note the Hamlin trend line, which heads directly into SCC's Sungold property.
Sungold Property Today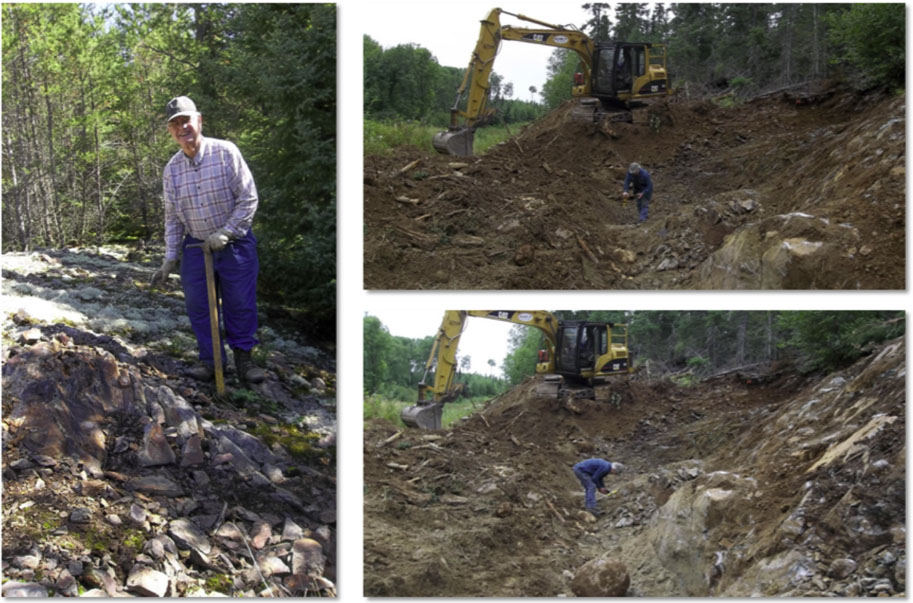 To the far left is a photograph taken in September 2020 of Russell Kwiatkowski, SCC Director and a recent recipient of the Lifetime Achievement Award for his outstanding work and continuous dedication to prospecting in Northwestern Ontario.


The pictures to the immediate left (also taken in September 2020) show SCC's backhoe operator pulling out visible, near-surface copper samples as he trenches the area surrounding HAM-11-75.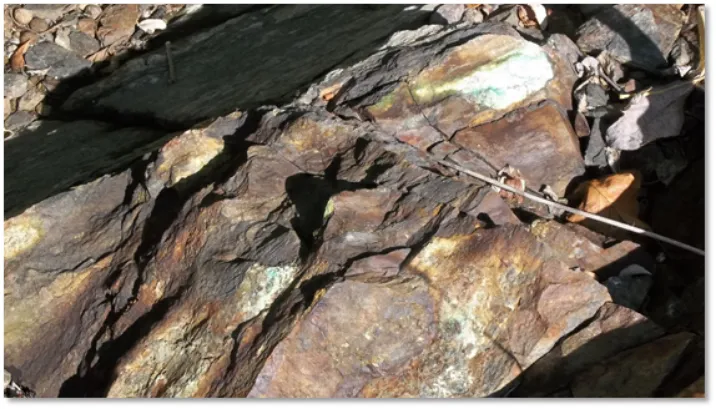 The above picture taken in September 2020 shows iron gossan in which elevated values of copper, gold, silver and molybdenum are found (molybdenum is commonly recovered as a by-product or co-product from copper mining).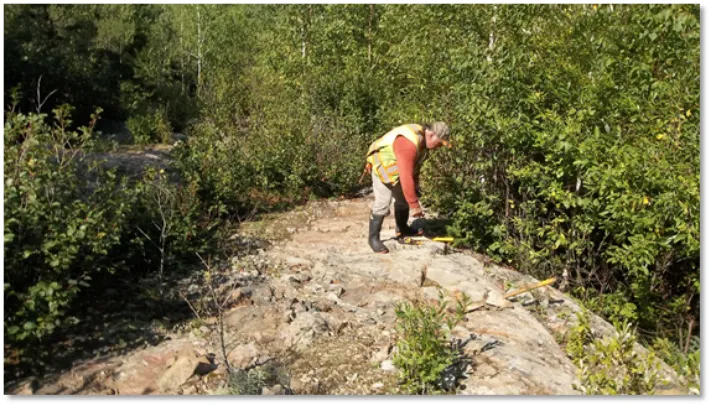 The above picture (also taken in September 2020) shows SCC's prospector photographing surface evidence of mineral deposits.